Sathyamurthy Viswanath, MD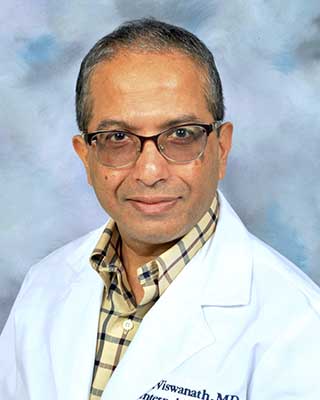 Dr. Viswanath began his medical education at Bangalore Medical College, a prestigious medical school in India, graduating with honors in 1990. After completing medical school, he began his residency in Internal Medicine in 1991 at Jawaharal Institute of Postgraduate Medical Education and Research (JIPMER) in India and completed it in 1994.
From 1995 to 2002, Dr. Viswanath continued his education and expanding his experience as a physician specializing in Internal Medicine in the UK. He worked in various hospitals in the UK and earned his post graduate Diploma MRCP (UK) in 1999.
In 2002 Dr. Viswanath and his family moved to the United States of America. He completed his Internal Medicine residency program with Abington Memorial Hospital in Abington, PA. In 2005 he accepted a position with Bryn Mawr Hospital as a hospitalist in Internal Medicine.
Dr. Viswanath is a member with the American College of Physicians. He is Board Certified with the American Board of Internal Medicine. He is also a member of Royal College of Physicians of London and is Board Certified in the United Kingdom.
In July 2006 Dr. Viswanath moved to North Carolina when he joined Village Internal Medicine. He is very focused on preventative medicine, cardiovascular risk factors and diabetes.
Dr. Viswanath is a dedicated husband and father who is devoted to his wife and son.